Return any painted, rusted or weather damaged trailer or horsebox to its original best ready for coating or painting.
Our trailers and horsebox paint removal provides professional grit blasting and can achieve truly remarkable results in an impressively fast time. Carried out by Symblast's highly knowledgeable and conscientious team you'll be assured of the best results. Furthermore, as Symblast is experienced in selecting the right abrasive media for the job, our grit blasting techniques are ideal for paint removal from any surface.
The Symblast team have worked throughout Hampshire and Dorset over 25 years, successfully removing paint and weather damage from trailers, vehicles, timber, masonry, steel and ironmongery. We have developed a trusted reputation for honesty, hard work and high standards. Significantly, our trailers and horsebox paint removal service are just one of many blasting and painting services we provide.
Case Study – Our trailers and horsebox paint removal service convert a horsebox into a "Gin Bar"
Trailers and horseboxes can benefit by Symblast's experience too! Aluminium panels can be very carefully blasted to remove old paint and refurbished to sparkling 'as new' condition – to a colour of your choice! Discover more about our trailers and horsebox paint removal service with our Gin Bar conversion case study.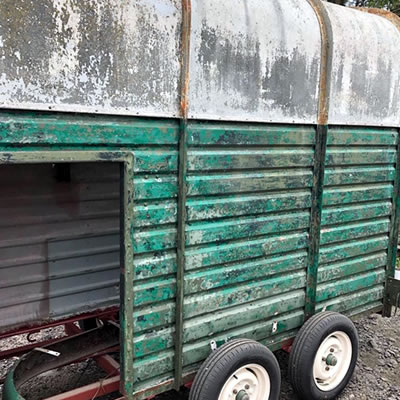 Preparing the way for inspection by the customer
Our customer wanted to refurbish and convert an old and well-used horsebox into a smart and mobile gin bar. We used one of Symblast's mobile units on-site to carry out the blasting. For this reason, we used a media suitable for the aluminium panels.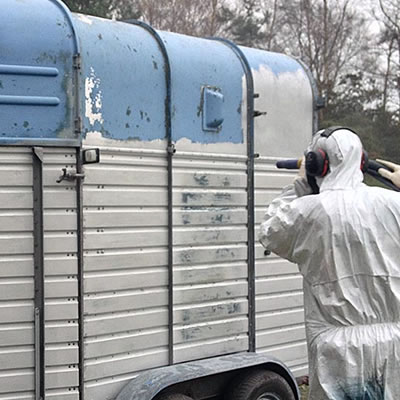 Started the blasting to remove the rust and paint
Firstly, the horsebox was blasted inside and out to expose the metal for detailed examination. Secondly, repairs could be undertaken, and the horsebox adapted in readiness for conversion into a mobile gin bar. As a result, the customer could move to the next stage of the conversion.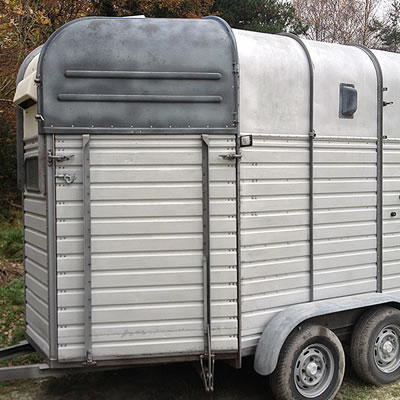 The finished result – ready for painting
Thirdly, the trailer was then aluminium coated with an acid-etched primer to ensure adhesion of the final coats of paint. In summary, this created a clean surface to optimise the adhesion of the final two coats of paint and created a smart smooth finish.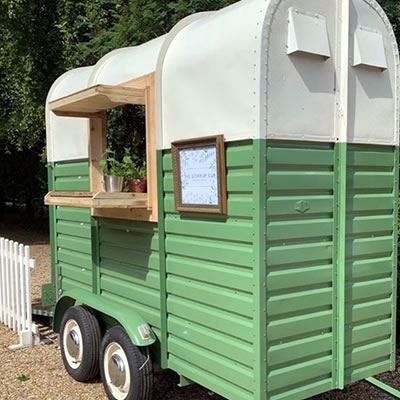 The benefits to the customer
In conclusion, a two-coat system was applied using Hempel Paints. We coated inside and out creating an easy-to-clean and wipe-down surface. The colours and finish look professional and clean so that it can give years of service.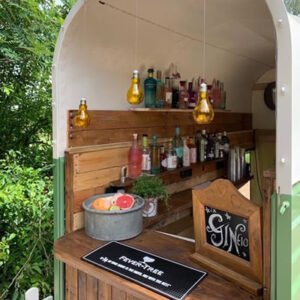 From transporting horses to a mobile gin bar