Our mobile blasting services are available across South England: Dorset, Hampshire, Wiltshire, Somerset, Berkshire, Surrey, Middlesex, Sussex, and Kent.
'Sandblasting' or 'shot blasting' are common terms used for what is really 'Media Blasting'. The blasting media can be anything from soda (used to clean stainless steel hobs and ovens and occasionally boats) to the heaviest of copper slag with a particle size up to 5mm (not for use on fibreglass)! Furthermore, our sand and shot blasting services will apply the right "media" for the application surface.
With the sensible and experienced selection of the correct media, most surfaces can benefit from our sand and shot blasting services. We remove coatings without damage to the substrate. With a range of abrasive media in stock, it's not difficult for Symblast to select the correct media and then to use it properly to remove existing coatings.
Our sand and shot blasting services have successfully blasted buildings in prep for rendering or painting and equally important to expose the beauty of the brickwork itself. In these cases, we find that our 'dustless' system of using a fine water mist to reduce or even eliminate dust is best. We offer our customers a high-quality paint finish from suppliers such as Hempel.
Case Study – Sandblasting a 60ft steel vessel at Brighton Marina, Sussex, UK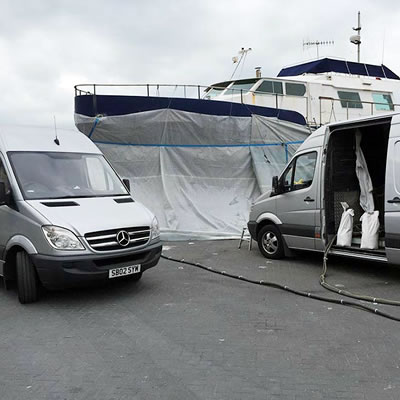 Preparing the way for inspection by the customer
The customer contacted us because their vessel had signs of severe corrosion. They needed to expose the metal to see what needed repairing. Firstly, our recommended solution was blasting and epoxy coating.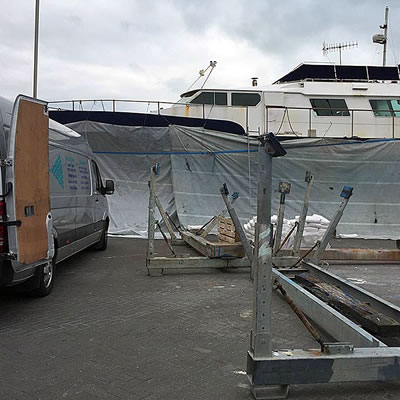 Started the blasting to remove the paint
Symblast arrived on site at the agreed time with two blast units to carry out the blasting as quickly as possible with equally important minimum disruption. The vessel was tented to contain the debris and blasting was completed by noon.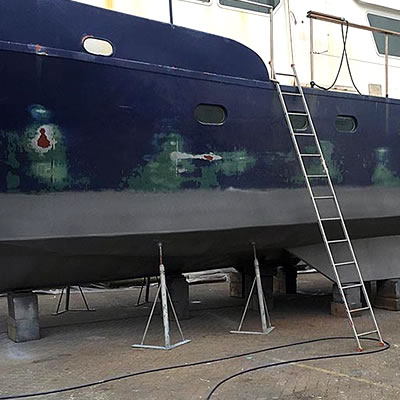 Marine Blasting – the finished result
This enabled the bare metal to be exposed for inspection. Following inspection, the exposed steel could be coated immediately to prevent corrosion.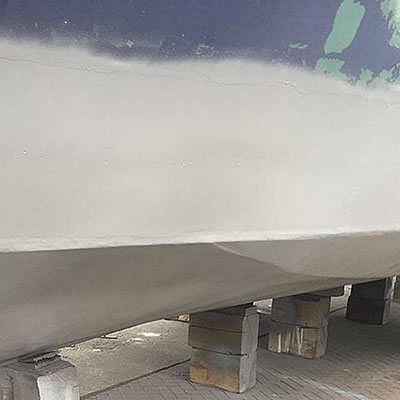 The benefits to the customer
We applied an airless spray of two coats of epoxy in the remaining time, allowing the customer to apply further coats as required. This work was completed in one day. This enabled the boat to return to the water with the owner confident that there would be no issues.
or call today on 07957 655 978