Wood and timber restoration
We provide wood and timber restoration services. Media Blasting is used on timber such as oak where the wood is old, painted or marked by the sawmill. For this reason, we use a special dry abrasive. The wood is revitalised by blasting, and some prefer timbers blasted to 'distress' and expose the grain. Over the years, Symblast has blasted many oak frame buildings to achieve precisely this result for our customers. Significantly it brings out the beauty of the wood. Working on properties of all ages, including new builds, we we have been asked to remove the unsightly black marks caused by the sawing process. However, some woods e.g. soft pine, may not be suitable for the blasting process. So please get in touch with us to discuss your needs, as we have a wide range of blasting media we can use for specific applications.
Case Study – Removing black marks from the saw process on green oak.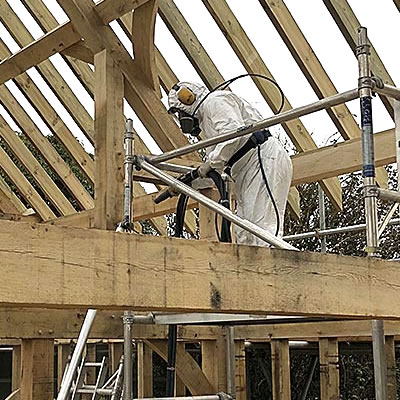 Preparing the way
This was green oak used on a new build. The oak has black marks left from the sawing process and water marks caused by the tannin in the wood, consequently, it looked unsightly. This is a common occurrence with green oak. For this reason, Symblast specialises in wood blasting to remove these marks.
To sum up, the customer now has clean, beautiful-looking, new oak beams that can be part of the visible structure of the house.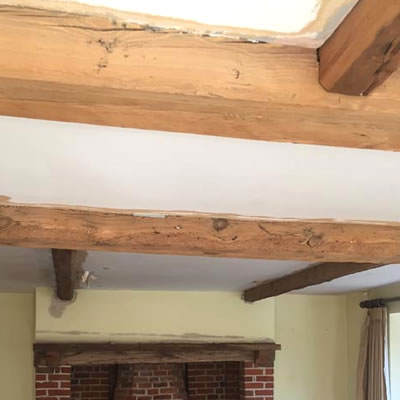 From dark to light
In many properties, it was common to paint old beams black, covering the beauty of the oak. Many customers choose to have the interior of their home lightened by the removal of this old dark paint.
Old unpainted oak tends to age very dark and here the application of sandblasting can lighten the wood considerably. Applications include homes, licenced premises, hotels, and refurbishment projects. Contact us to discuss your requirements.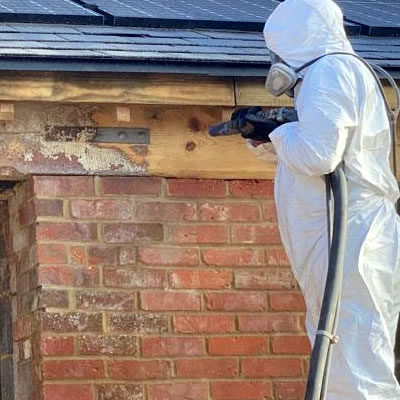 Restoring external timbers
Our wood blasting service can quickly and easily restore any external timbers to enable inspection and coating.
Watch the video to see how our wood blasting can save you time and money
or call today on 07957 655 978