Creating a barrier that lasts

Symblast offers a complete mobile osmosis treatment service – from the removal of the gelcoat to completion. Our proven method to date has had zero failures. First, the hull is gel peeled to expose the laminate and then blasted to open the laminate to allow trapped osmotic fluid to be washed out by steam or normal pressure washing. Once dry, the hull can then be rebuilt using solvent-free epoxy, which is applied by roller and then 'bladed' smooth to achieve a glass smooth finish that is impervious to water. Finish this with a Coppercoat treatment, and you have a hull that will give many years of service with little or no maintenance.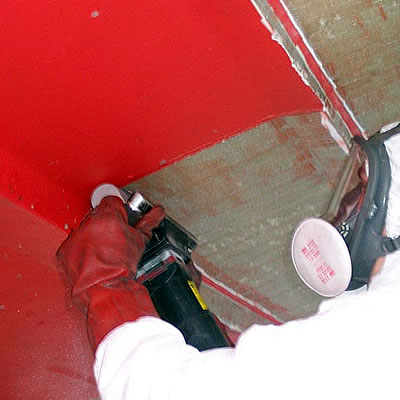 We provide comprehensive and durable osmosis treatment for boats
Preparing the way removing the old surface and gel using a gel plane. Where required, cleaning the area with blasting.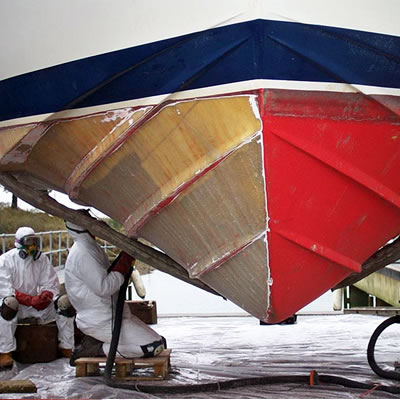 Applying the treatment
Once the area is clean it is inspected, a new gelcoat is applied followed by the coating of the customer's choice including Coppercoat.
Osmosis Repair
Older yachts may develop Osmosis after many years, and Symblast has the complete answer. Firstly, hulls are gel peeled to remove the old worn-out gelcoat and a small amount of laminate (very few boats require re-laminating as hardly any laminate is removed). The hull is then grit blasted to allow trapped salts (or osmotic fluid) to be removed by subsequent steam or pressure washing. Once dry, the hull is rebuilt using pure solvent-free epoxy, which is applied by roller and 'bladed' smooth. This process eliminates the need for filler and excessive sanding. To date, we have never had a rebuild go wrong! Please contact us and speak with one of our experts who can advise on addressing osmosis on your boat.
Case Study – Our work on a 35ft YACHT in Bristol, Avon,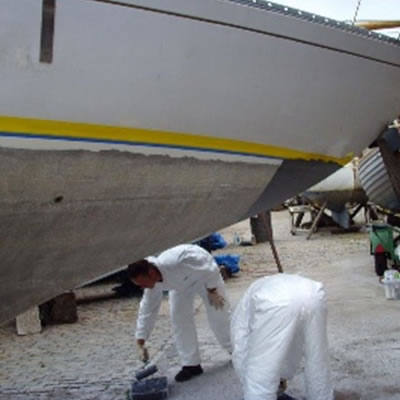 Preparing the way for inspection by the customer
This vessel has Osmosis. The gel coat was blistered, and the moisture readings were very high. The customer wanted us to address the problem identified. Symblast has carried out Osmosis repairs on craft across the South UK.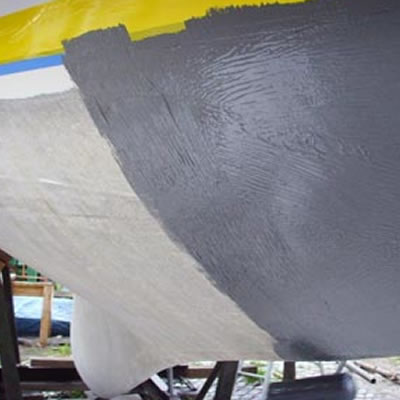 Started removing existing gelcoat
The gel coat was peeled with a gel plane, removing the gel coat and a small amount of laminate. The hull was then grit blasted to remove any osmotic laminate and to aid the drying process. Steam cleaning was also carried out to dissolve and remove any trapped salts that would cause further problems.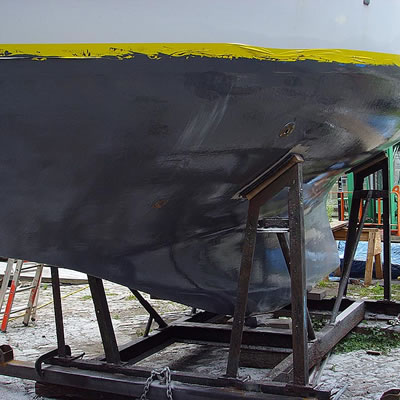 The finished result
The hull was rebuilt with solvent-free epoxy and bladed to achieve a very smooth, impermeable coating. The finished result will provide many years of low maintenance.
Coppercoat was applied to complete this project.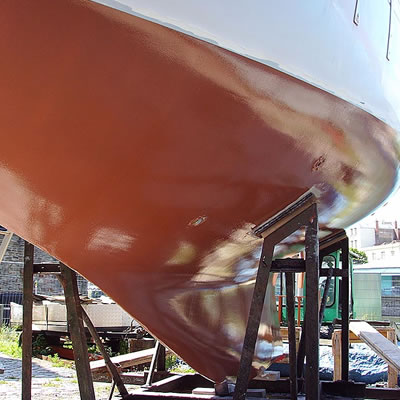 The benefits to the customer
An Osmosis-free hull that will last for many years. This hull was covered with Symblast's Coppercoat Service