Marine antifoul removal services that prepare the way.
For over twenty years, we have evaluated various methods of safely removing anti-fouling coatings from the bottom of boats. We've looked at Dry Ice blasting (slow, expensive, and despite the hype, it does not give a good finish), Soda blasting (what a flipping waste of space that was unless you are removing a maximum of 2 layers of paint), and others.
Our conclusion? There is no better way of removing anti-foul than the proven methods of the Symblast team. Our blasting methods are fast and 100% effective.
The Symblast team work in harmony with boatyards and execute their work quickly and efficiently, tenting up to protect surrounding boats and leaving the perfect, clean finish ready for painting or epoxy coating.
Notably, all work is carried out by experienced, trained and dedicated personnel. This is the key to our business survival, and at Symblast, we all work hard to deliver the highest possible standards of service and customer care. We are constantly innovating and ensuring we have the best products and service skills, and if and when a better antifoul removal process is discovered, Symblast would be the first to invest in it.
Case Study – Our anti-fouling methods were used on a classic wooden Fairey Swordsman to remove the old paint at a Medina boatyard on the Isle of Wight.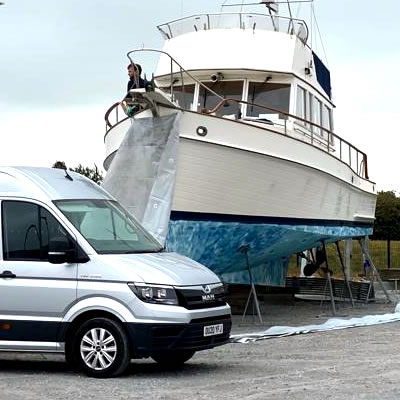 Preparing the way for inspection by the customer
Firstly, our customer wanted to expose the wood of a Fairey Swordsman to inspect it for rot. Notably, the boat was covered in years-old paint.
Started the blasting to remove the paint
The vessel was carefully blasted so as not to damage the wood unnecessarily. For this reason, we used suitable blasting media to balance the time taken with the results.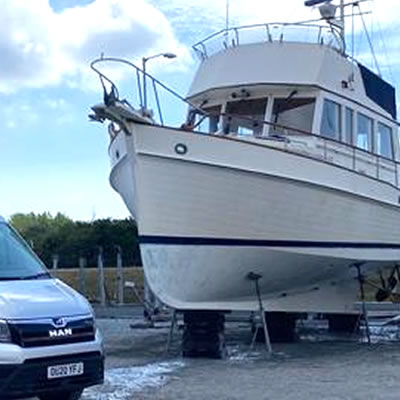 The finished result
The hull was then exposed for detailed examination, after which the necessary repairs could be undertaken. The hull was repainted.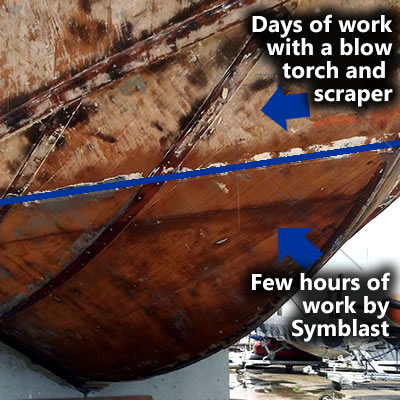 The benefits to the customer
This process avoided many hours of manual scraping and sanding work that would in effect, have been required. Our methods saved the customer a small fortune, and results were achieved in a much shorter period – a morning!
See the image as an example of how much cleaner and easier our process is compared to other methods. A customer did the top half taking days, we did the bottom half taking hours.
Our antifouling removal processes
or call today on 07957 655 978